Motivation
STEM is a Four Letter Word!
Engineering problem solving and design material is being introduced into Texas secondary schools, particularly in response to the high school 4 x 4 requirement. Proponents argue that doing so can increase students':

Engagement, interest & attention;
Technological literacy;
Achievement in science and mathematics, and
Interest in STEM careers.

There are a variety of ways to introduce engineering topics into secondary school. This three-year program, with a single cohort of teachers, provided professional development for high school teachers to give them the skills to introduce engineering and design content into secondary school core science classes. This Infusion Approach requires minimal school or curriculum restructuring compared to other approaches, and reaches every child. But it does require specially trained teachers, since few teachers are prepared to teach design or to mentor student team projects.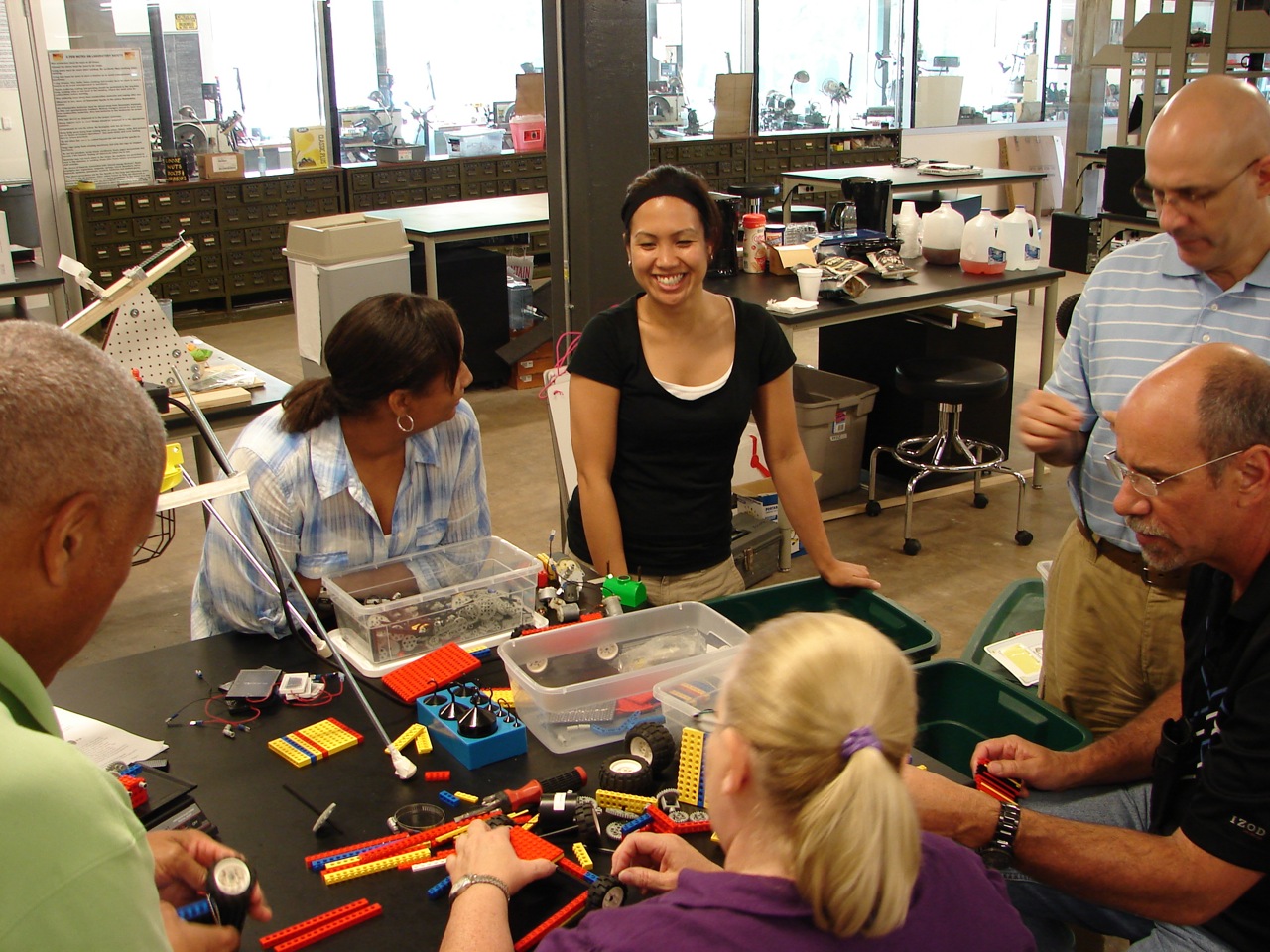 Using intensive summer workshops and academic year meetings, this program provided that training, plus materials, travel grants, online resources, and continuing support.
Goals
#1: Give teachers the skills, content and pedagogy to guide student teams through engineering design projects.
"It is difficult, if not impossible, to teach in ways that one has not learned"
—(D. A. Kolb, Experiential Learning, 1984).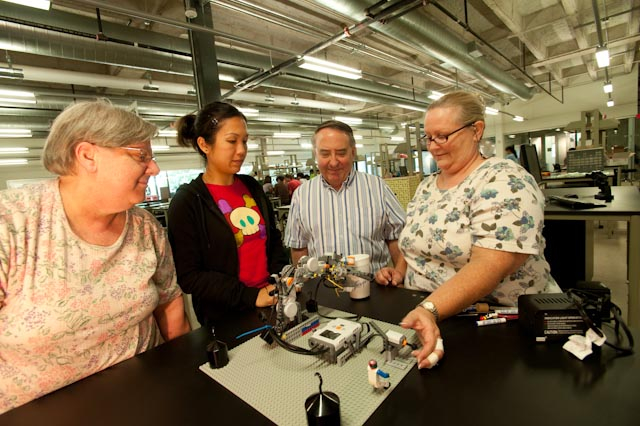 To achieve this goal we immersed teams of teachers in realistic design challenges, such as designing and building a prosthetic arm that can grip and pick up a foam cup. We led the teachers carefully through the steps of the design process.  This experience gave teachers the content knowledge of the process, the tacit experiential skills, and the pedagogical abilities to mentor and assess student design teams.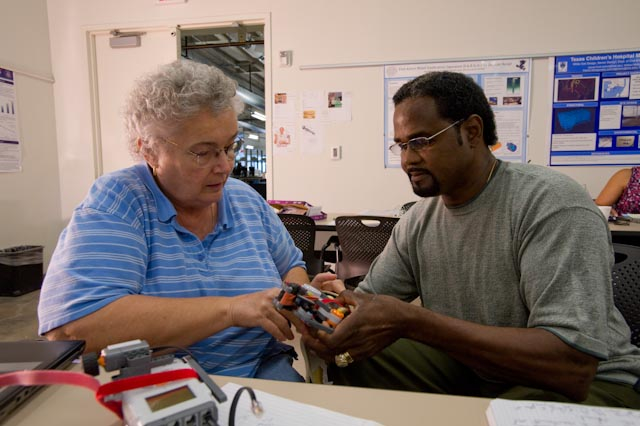 ---
#2: Introduce teachers to Design Teaching Kits and other materials to infuse design content into science classes.
A Design Teaching Kit (DTK) is a set of hands-on activities, plus a design contest, used to supplement and enhance an existing science curriculum. The components of a DTK typically include:
Student instructions & worksheets
Teacher guide with assessment tools
Materials list, sources, instructions
Information on alignment to Texas standards
Teachers worked on developing three kits related to topics typically taught in high school physics.
Energy conversion, solar cells, electrical measurements, motors, and torque and gears.

Solar Monster Truck Pull! Choose solar panels, a motor, and a gear system to build a truck that can move the heaviest load.

Nature of heat; conduction, convection, & radiation; insulating properties of materials, and global warming issues.

Save the Penguins! Choose materials to design an igloo to keep a penguin ice cube from melting in the solar cooker.

Potential & kinetic energy, friction, and properties of fluids.

Save the Aquifer! Pick a pipeline path to avoid environmentally sensitive areas, and design a pipeline to transport two different density products with minimum pump energy.
Engineering Design
Another essential component of a DTK is information on the engineering design process, and the difference between science and engineering. This material is common to all the kits and is in a separate Engineering Design Module.
---
#3: Provide teachers with information on engineering practice, disciplines, educational options, and career paths.
Students see school councilors rarely, but every student has close contact with a science teacher. REDE teachers have the information to advise students about STEM careers, and the skills to motivate students to be successful in pursuing them.
Did It Work?
Teacher Growth
We used pre- and post-tests to track our participants' growth in eight program objective areas. Overall, the average score of 54% before the program rose to 79% after the program. Scores improved in all eight areas. This one-page PDF document defines the eight objectives, gives the pre- and post-test scores for each, and plots the results.
Qualitative Results
In addition to objective testing, our external reviewers surveyed our teachers and their students, observed classrooms, and conducted focus groups on the experience.
REDE teachers said they liked:
Getting the student perspective.
Working as a member of a team on a design project.
The connection to the real world.
The structure was modeled in the way we should do it in class.
Learning the design process.
Designing the prosthetic hand.
Their students said:
98.7% said they liked doing the design contests

"It was really fun coming up with different ideas …that would help mankind."
"I found …hands on projects is the way I learn best."
"Usually students do not get the chance to build creations at this level."
"We learn new skills from these projects."

87% planned on taking STEM classes in college.
75% said they were planning a STEM major in college and a STEM career.
24% mentioned engineering as a possible career choice.