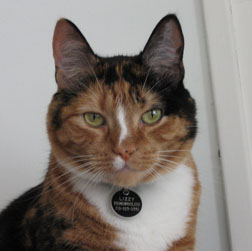 Jim and Cecily Young live a short walk north of the Rice campus with their cat Lizzy. We got Lizzy at the shelter where she looked like a cute, biggish kitten. But it was all an act to get adopted. Turns out she was three years old, started eating like crazy at home, and became normal cat size. But she's still cute and sweet. We enjoy cooking, ballet, theater, and reading, and being active Associates of Martel College. Our favorite place is the beach on Maui.

We have been named Outstanding Associates of Martel College and of, well, another Rice college, too. This is a picture of our 2013 O-Week Group, MI: Frost Protocol. We're the old people at right front.
Jim
I am a faculty member in the Electrical & Computer engineering department, emeritus now, so I don't usually teach. I enjoy being one of the engineering divisional advisors at Martel and a Mentor as it keeps me in touch with students. I usually eat lunch in the commons a couple of times a week; please join me. For most of my career, I have been an experimentalist (I like to tinker) concentrating on the development of new optical/photonic devices and their application to solving scientific and technical problems. My scholarship now focuses on engineering education, both undergraduate and K-12 levels. My family moved to Houston just in time for me to go to Bellaire high school. Afterward, I left for college (I was admitted to Rice, but went to MIT; my parents were not amused as Rice was free at the time.), then graduate school, and came back to join the Rice faculty in 1990 after 20 years at Stanford University. In 2011 I retired and became Professor Emeritus; that means I'm doing pretty much the same things as before, without pay, but when my Chair asks me to do something, I can say, "No."
I am an only child, but I am very close to two cousins, one in Houston, one in New Orleans, plus four cousins-once-removed, and two cousins-twice-removed. (I had to look that up.) I like the technical side of theater. On my sabbatical I rewired Hamman Hall, and set up the teaching lighting lab for the new theater department. I've been involved in lighting several college productions as well as the Rice Players. When we go the Alley, I miss a lot of the play because I'm looking up at the light grid. I'm rebuilding my first car, a 1958 Porsche, when I have time. We also had a 1965 Porsche convertible, (Cecily's prize for quitting smoking in 1980), but we got an offer we couldn't refuse. We replaced it with a 2009 Porsche Boxster. Our primary criteria in buying a house were proximity to Rice (I walk in) and lots of garage space. Let me know if you need to borrow some tools or work on your car (but I'm not so good on new models).
Cecily
I grew up near Santa Barbara, CA, and am the youngest of four sisters and one brother. Two of my sisters were nuns; they quit and now lead regular lives. My brother was a priest, but also quit and marched to his own beat, following the Maharishi Mahesh Yogi around the world, essentially as a monk. I majored in English in San Jose, CA. Jim and I met my junior year at a Stanford party given by one of his grad students, whose girlfriend, also my friend, set us up. It seems to have worked. I did graduate work in classics, ancient Greek and Latin (and a few other languages) at Stanford and UC Santa Cruz. I have an M.S. in comparative literature, and an "Ab.D," All but Dissertation, meaning if I write my dissertation I will have a Ph.D. My research examines the attitudes toward family planning in antiquity, as expressed in the literature. My thesis is that in antiquity decisions regarding contraception, abortion, and exposure/infanticide were considered in a pragmatic, rather than a moral, context. The focus is on Plato's Republic and Laws, Cicero's Pro Cluentio, and Ovid's Amores 2.13 and 2.14.
I taught various classes at U.C. Santa Cruz: Introduction to Shakespeare, Latin I & II, Tragedy in Greek Stage/Modern Film, Introduction to Classical Myth and Legend, and Dickens novels. In Houston, I taught American literature at Duchesne Academy High School and I've done volunteer tutoring in HISD middle school. I usually belong to several Greek and Latin on-line study groups, so I spend a lot of time at my desk with multiple dictionaries trying to get my homework done in time to submit it. It's like I never left school. If you want some advice on a paper, contact me. Unfortunately, I have a progressive muscle disorder (similar to muscular dystrophy) that makes it hard for me to visit Martel and the campus as much as I would like.