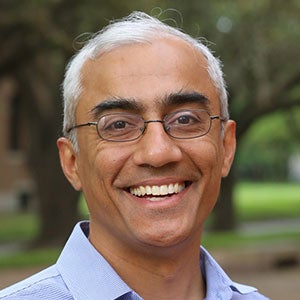 Welcome to the Department of Electrical and Computer Engineering at Rice University!
Our faculty rank among the top 10 most productive in the USA*, in both Computer Engineering and Electrical Engineering, as shown by the number of publications and accolades attributed to them, as well as the amount of funding they receive. In turn, they inspire productive, happy students — one of the top 5 happiest in the nation, according to the Princeton Review. Together, our faculty and students advance the state-of-the-art in a broad set of disciplines spanning and redefining the limits of ECE.
Rice ECE offers these degrees programs in a dynamic learning environment:
We educate engineers and scientists who go on to be leaders in academia, industry and government, where they redefine the limits of technology. Students in all programs have the opportunity to participate in research. In addition, our undergraduates have the benefit of the Oshman Engineering Design Kitchen, a state-of-the-art design laboratory for Rice science and engineering undergraduate students.
The scope of our interdisciplinary research collaboration is virtually unmatched. Rice ECE is globally known for extensive reach across disciplines, including designing next-generation wireless networks; nanophotonics; terahertz laser spectroscopy; digital systems processing; neuroengineering; machine learning and data science; healthcare devices and analytics; and a plethora of other interests.
We have a strong research relationship with government and industry. Research awards have climbed steadily, with annual research expenditures near $700,000 per faculty member. Rice centers and groups continue to win vital support from government agencies and industry partners.
Our location in Houston, Texas, provides unique opportunities. NASA, the energy industry, and the largest medical center in the world, Texas Medical Center, are all a short distance from our campus. In June 2014, the Rice Alliance for Technology and Entrepreneurship was named #1 of all university business incubators for the second year in a row, and the OwlSpark Startup Accelerator is a valuable resource for both undergraduate and graduate students to gain experience as entrepreneurs. Many of our students have gone on to found start-ups thanks in large part to the skills they acquired at Rice.
At Rice ECE, we challenge our students to redefine their own limits. Should you choose Rice for your education, you will be taught to think creatively and will be part of our network of knowledge. Regardless of your interests and goals, you will find others that share your passion.
We invite you to learn more about Rice University and the Department of Electrical and Computer Engineering by finding us on social media and checking our website frequently to stay in touch with the exciting and groundbreaking achievements that happen daily in our ECE community.
Ashutosh Sabharwal
Department Chair Professor, Electrical and Computer Engineering